A Buckman native and 2014 graduate of Pierz Healy High, Will Pappenfus, AKA "Walleye Will," is an angler who is up to something pretty special.
Pappenfus is a regular on the TV show "Fish Addictions," which airs Sundays at 10:30 a.m. on Fox Sports North.
He got hooked up with Mike Olson, host of the show, and producer Aaron Eickhorst after watching many hours of videos online.
"I started watching a lot of YouTube videos of fishing shows when I wasn't out fishing, and I always thought that would be a cool thing to do," Pappenfus said. "I kept my head down and worked hard and it ended up paying off."
Pappenfus has been on several trips to places all over Minnesota, Wisconsin and North Dakota as a part of the show, and he is thankful.
It has also pushed him out of his fishing comfort zone, which is fishing for walleye, bass, pike and panfish.
"I've been able to catch almost every kind of freshwater fish in the Midwest, so that's quite an accomplishment," Pappenfus said.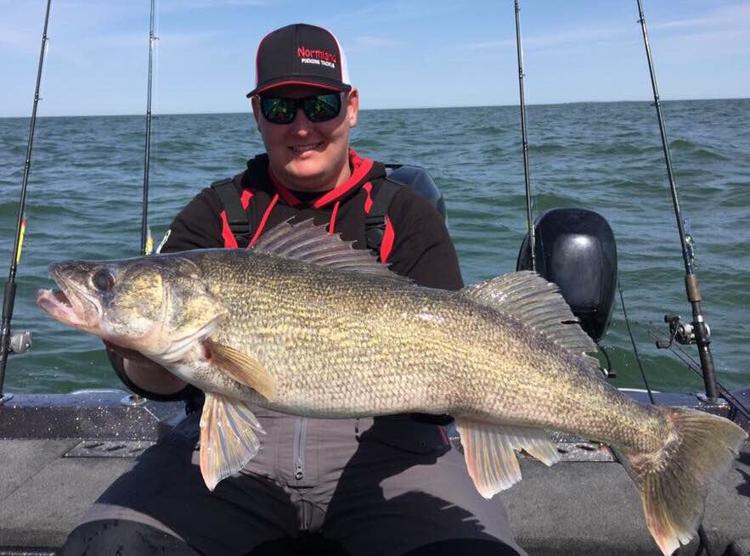 On the show, Pappenfus is often wearing what would be a familiar sight to those in the Pierz/Little Falls area — a Lash's Auto Repair hat.
"He's the one guy (Jason Lashinski) who really helps me out when I fish tournaments and stuff, and he's really been behind me," Pappenfus said.
Pappenfus, the son of Tim and Kay Pappenfus, grew up fishing on a familiar lake.
"My mom would always drop me off at Pierz Fish Lake after school whenever I could talk her into it," Pappenfus said. "I'd fish all day and then she'd come pick me back up, or my dad would or whatever."
His dad also often took him fishing to Mille Lacs, Platte or Sullivan lakes in the area as well.
Pappenfus has regularly fished in area tournaments on lakes such as Leech, Mille Lacs and Lake of the Woods. It would be his goal to become a full-time tournament fisherman eventualy.
Currently as a student, he also works at the Sanford Center in Bemidji in the winter and as "CEO of Harbor Operations" at Spirit of the North Resort on Leech Lake during the summer.
"I would really like to fish the NWT (National Walleye Tour) pro circuit once I get the time and money," Pappenfus said. "That is something I feel like I can go and do, and that I want to experience."
Pappenfus was sold on the Bemidji/Walker area as soon as he laid eyes on it.
"When I came up here on my college visit I saw all the lakes and it was really a no-brainer where I wanted to be," Pappenfus said.
He said that getting to fish on the many lakes in the area reminded him of why he loves fishing in the first place.
"Pulling a fish out of the hole or getting it in the net, you really feel like you've accomplished something," Pappenfus said. "The beauty of the fish and just the whole experience of being out there, it is just a nice place to be."
Pappenfus' biggest walleye has been 30 1/2 inches and was just under 12 pounds. He said he has caught many between 29 and 30 inches, however.
He said he prefers boat fishing to ice fishing because "The weather is usually better" and one can cover a bigger area in a boat.
His dream trip is to fish the Columbia River for white sturgeon and giant walleyes.
Apparently his nickname is not going to change, nor will his advice.
"People should release every 20-plus inch walleye on opener so that they can all spawn out," Pappenfus said. "Fourteen to 16 inchers are the best eating anyway."
As for being on TV, he said it is cool to have people come up to him and say they enjoyed seeing him on TV, but that his favorite part is the camaraderie between all the guys on the show.
"I get to fish with some of the best people out there, and it's a pretty cool experience," Pappenfus said.