I'm looking at a protein drink in my hand: "fuel your 10K" the blurb on the side says. "To achieve your maximum potential you must endure 10,000 hours of training." Part of me wonders if that's 10,000 hours of gym life? 10,000 hours or learning to corner? 10,000 hours of dieting? 10,000 hours of practising one trail? or 10,000 hours of fixing my bike?
Well, I would argue its 10,000 hours of doing all of those things and for me a hell of a lot more than 10,000 hours. I've been riding for 25 years, wow, jeez! that's a quarter of a century! Yup, I was around when Girvin flex stems were groundbreaking technology, having 18 gears on a triple-ringed mtb was a step up, and if your tyres were wider than 1.9″ you were seen as a bit of freak.
Having just received my new bike from Marin, the "Attack trail 8", with 11 gears on a single ring, 160mm of air sprung suspension front and rear, 203mm hydraulic disk brakes, some parts made out of the wonder-material carbon fibre and hot damn, a seat post that moves up and down at the press of a button, I can see times have changed.
I certainly have changed. I'm 40 years old this October, I'm 2 times Scottish enduro champion, racing mountain bikes in a national series at an elite level and am now sponsored by several companies and a view to becoming a World Champion in my own right next year, in the EWS 2019 Masters age group. Oh, I how I wish I could have said to that the spotty teenager swinging a leg over his purple Giant Boulder with plastic pedals and steel rims 25 years ago. How on earth did this delusional journey start? Let me explain.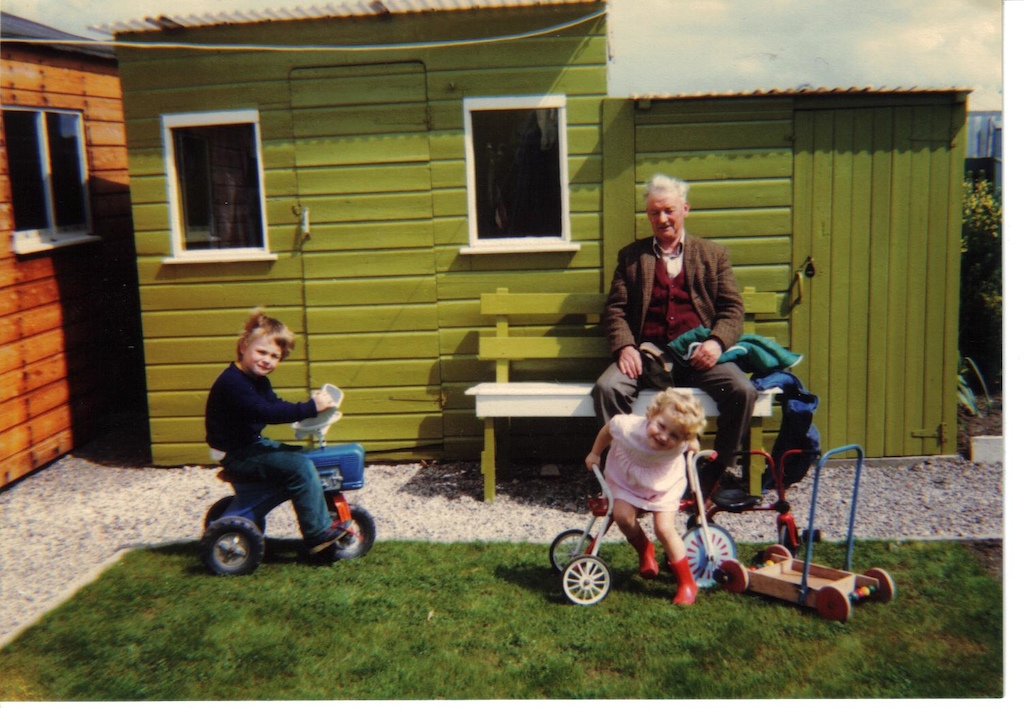 We've all got our own story of how we ended up spending all our spare and sometimes not so spare money on mountain bikes. What is it they say? "Mountain biking…. as addictive as heroin but twice as expensive!"
I started off mountain biking when I was a teen and got a "Giant Boulder" for my birthday to do my paper round. Some part of me felt if I had a mountain bike I had better take it into the mountains…and that I did!
I remember the first big hill I climbed, it was on my doorstep and at about 1000ft and it took me 4 or 5 stops to get to the top. That moment of bicycle freedom also lit a spark of competition in me. My pal Mike Tippen had ridden it in 3 stops! Over the following weeks I eventually managed to do it in one go. That spark of competition then lit a furnace in me, and ever since then my competitive streak has always got the better of me, much like Marty Mcfly's aversion to being called "chicken"
In the early years (mid 90's) there was only one form of racing and that was XC, I played at that game for quite some time. Eventually getting to the point where I could podium on a national series event if the course was a technical one. Usually, I played cat and mouse with the rest of the field on the downhill sections. I would get my ass hauled on the 10-20min climbs by several people then reel them all back in on the 1 min descents.
It was good enough to get me a top 5 overall in the Scottish race series and also to win me the fire service national XC champs outright, even getting to represent Britain in Italy in the fire service world champs (where I really learned the humility of getting my ass whooped). I got bumped up to expert the last year I raced in the Scottish nationals and promptly jacked it in as the courses were boring, I was only riding for the short downhill sections and I really, really didn't fancy doing the additional lap "expert" category asked of me, "Another lap to do that crappy soul destroying climb yet again!" I needed to look elsewhere for my fun.
I had a wee play at long orienteering style events and loved the additional time on my bike doing big single loops and being out for 5 hours plus. However, the courses were even more boring than XC. At this point, DH racing was starting to become popular, so I turned up to a race on my trusty GT Zaskar hardtail with cantilever brakes and 90mm of suspension. To say I was nervous was an understatement. Here my resolve to dig deep and maintain 170bpm for 90mins wasn't going to cut the mustard. I was now going to have to force my self to ride through nasty rock gardens, down steep sections and ride off of drops and jumps.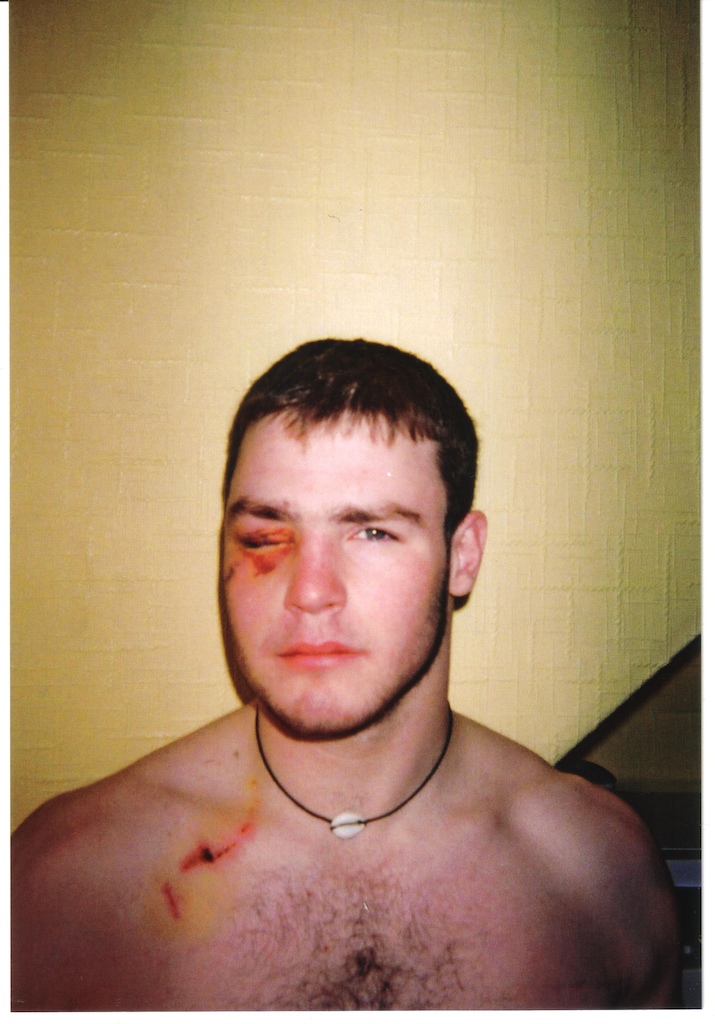 I failed. I had a bad crash whereby I used my face to stop abruptly on a large immovable boulder. Thus shattering my right orb and knocking the eye in that socket out of line. The operation fixed it but left me with metal plates in my face and permanent pins and needles in the right side of my face.
At that point in my life I was also playing rugby to a semi-professional level and had trials for the Scottish U21 team…… it was now decision time….. should I keep riding mountain bikes, the sport that nearly broke my neck, or keep playing rugby and make the Scottish team? The feeling of fragility in my face made that decision for me. There was no way I was going to be able to tackle, ruck and scrummage effectively any more in my 5 times a week rugby games and training. I've always been this way in Iife. If can't do something to the best of my ability then I'm not interested. So much for my resolve! mountain biking was my future.
I got back into racing DH as it was such a buzz. So in earnest I started turning up to Scottish series races on my hardtail. To begin with, there was always a bit of track I had to walk, then that bit of track became a bit I was worried about crashing on, then it became a bit of track I was losing time on, eventually becoming a bit of track I needed to figure out how to gain time on. Some races I even finished top 20 on my hardtail against the fully sprung boys. During this time I kept destroying frames, forks, wheels, handlebars and seats, you name it I've done it.
Eventually, I was convinced to get a full suspension bike, a marvellous Specialized Demo 8. I spent £3000 and genuinely believed I would be on the top step of the races every week…….well….. I was faster, but only by about 20 secs on a 3min track. I had just spent £3000 to be 20 secs quicker. Whats that work out to? £150 a sec. Hmmm! some improvement needed here I think. I persevered and eventually got top ten in the Scottish series, but I just could not crack the speed of the fast boys. Yeah, I could take gnarly lines, I could drop and gap anything you chucked at me but I just could not match the speed of the fast guys. eventually, I stopped racing DH and just rode for fun, setting up Falkland DH Bike park in Fife Scotland, making stunts and riding my hardtail to destruction on British trail centres.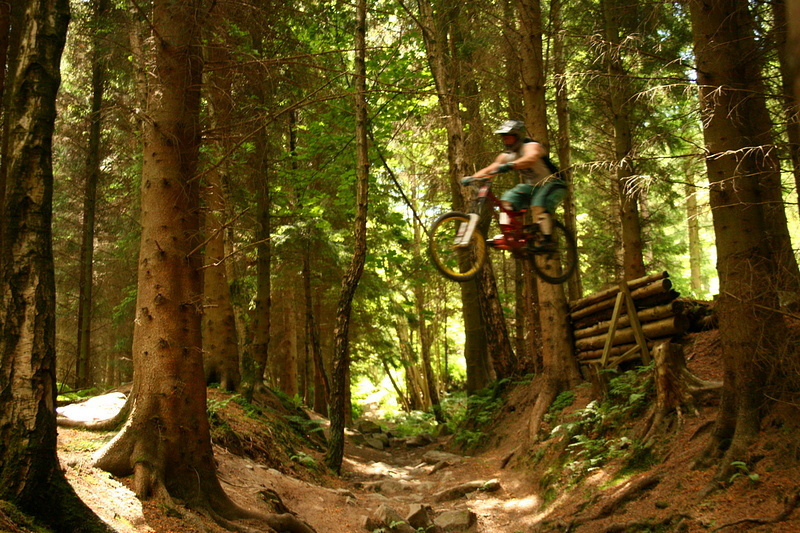 Then 2014 happened. The inaugural Scottish Enduro series. Lo and behold they even had a hardtail category. Turning up to that series was a revelation for me.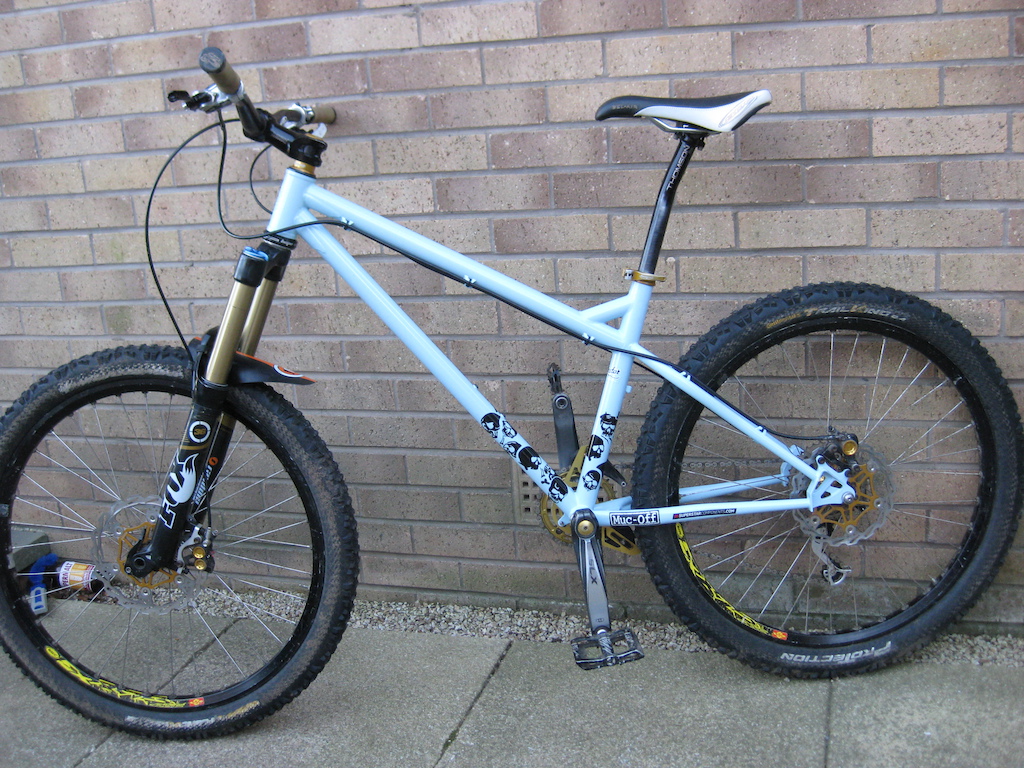 Here I could use my fitness to my advantage on the big loops, and use my skill to my advantage on the special stages, the courses were pretty technical. All the boxes were ticked. and I duly won the series outright. I even won one of the races by 5 mins. Only one thing was missing, and that was any real competition, my times were good enough to put me in the top 10 in the main fully sprung field. Only one problem – I didn't have any money to buy a full suspension bike, it was all getting spent on broken hardtail frames. I went through 4 hardtails that year!
Time to go with my cap in hand and ask for sponsorship…. be damned if I was going to spend £150 on each second I needed to save, when I couldn't even afford to put new tyres on my van.
If you are reading this and have grand visions for your future in biking then listen in. Sponsorship is not wholly about being good on your bike. Luck and perseverance goes a long way. Several companies I contacted like Specialized, Trek, Giant etc were not interested and never replied for obvious reasons, smaller companies got back in touch to say they weren't interested. I then asked a friend of mine from Italy, (who I must mention as I owe it all to him Samuelle Bressan) if he knew any companies that could help.
I got really lucky. Bianchi were just bringing out an enduro bike and late to the game they had no real way of getting the bike noticed. A meeting was set up with the UK manager and I sold myself as best as I knew how and somehow walked away with a full factory ride, 2 free bikes and a road bike, RESULT! all I was after was a discounted frame! Little did I know that this level of sponsorship was highly unusual. I wasn't even racing "elite", but just my own "masters" age group. Unfortunately it also meant I had to sell my soul to social media. It turns out sponsors want media coverage as much as results!
2015, my first year as a sponsored rider was psychologically difficult for me. I knew I was the only guy in the age group categories getting free bikes. I felt embarrassed as I hadn't really proven anything yet, I was under huge stress to perform (all my own pressure – nobodies else's). I paid for a PT trainer and nutritionist, went on a hard-hitting diet (not far off turning it into an eating disorder) and lost 15kg and developed a seriously unhealthy appetite for annihilating my self in the gym. Despite the lucky break, I didn't believe in myself. I am ashamed to remember shouting at and upsetting my devoted wife, that I didn't want her coming to the first race in case I was basically shit and no faster than on my hardtail. Where did it get me? Not very far in my eyes, a couple of bottom steps on the podium and 4th overall. where was I going wrong? (Obviously, in hindsight this is pretty good, but at the time it wasn't what I wanted)
At the end of the season, I decided to make use of a prize I had won the year before in the hardtail category – a days coaching with Ben Cathro of sick skills. When I met Ben, I was a bit overawed. He's had a top ten in the World cup DH races and wins every Scottish enduro race and DH race he enters, the man is a riding god amongst mortals. Turns out he's actually pretty normal and chilled out. He had seen me at the races and said he wasn't sure if he could help that much as obviously I was a fairly proficient rider going by my race results (thus ego inflated). So he said, "let's go down this bit of blue graded trail centre track, I'll follow you and see where you are at." After the 3rd corner, he screamed at me to stop. His words were "OH MY GOD!, you have to be one of the worst people at cornering I have ever seen, literally everything you do is wrong, body position left, right, fore and aft. Pedal position is all wrong, line choice is all wrong, braking point wrong. Literally everything!" Thus ego not just deflated but well and truly burst! We spent the whole day practising that one corner until I got it right.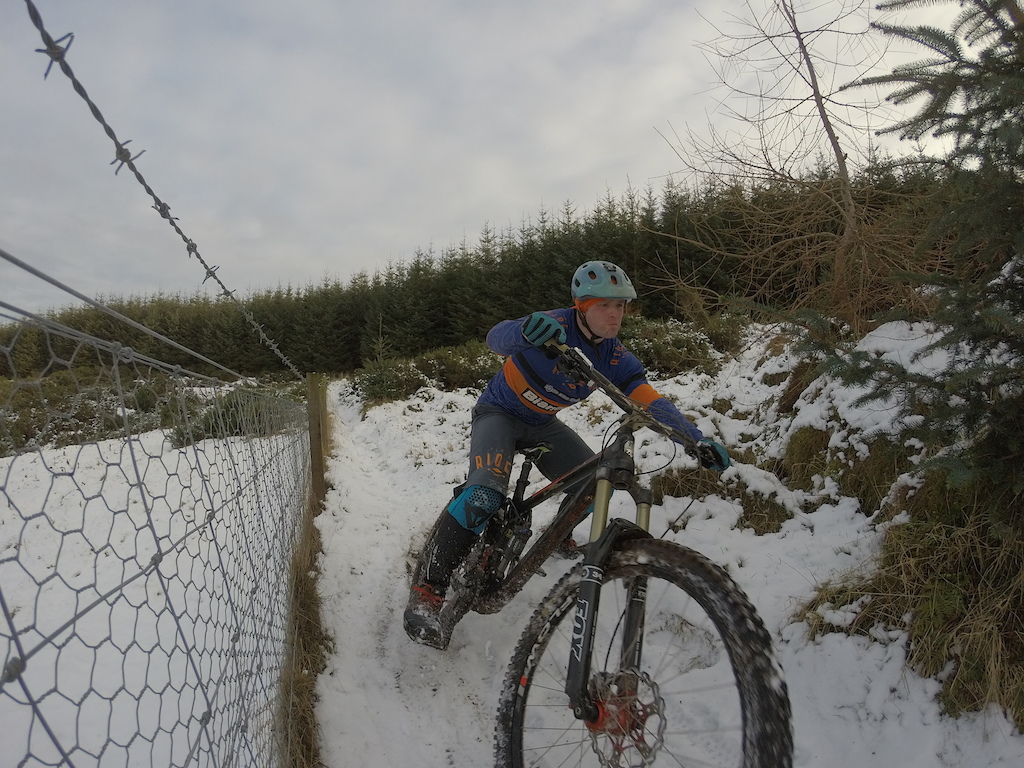 2016, The following season, well guess who won the Scottish series masters age group with a couple of top steps along the way? Ben taught me a huge lesson, not just in improving my cornering technique, but that to improve in anything you need to try new things and accept that you are crap at some stuff. He also taught me that it's massively important to practice the stuff you suck at and not worry about the stuff you are good at. Eternally grateful sensei Ben!
For 2017, I was going to race the British National series in its new expert category and the Scottish series in masters. As fate would have it the British series folded, and so did my deal with Bianchi as they weren't selling enough of the bikes to warrant keeping going with the project. First and foremost I contacted as many companies as I could think of (that Pinkbike directory list is pretty hand y'know). Out of 40 odd companies, only 10 replied and out of those 10 only 3 were offering me anything and that was all grassroots deals whereby I would need to buy a frame at cost price. To say I was a little shocked was an understatement, here I was 2 x Scottish enduro champion and nobody was interested in helping me out with freebies. Next big lesson learned –
take nothing for granted!I decided to go with Marin Bikes, the frame price was good, and speaking to the UK brand manager, I could tell he was on the ball and keen to help out where he could. My experience with Bianchi told me that this was far more important than getting free kit. Passion in anything is paramount to success. Next choice was what category should I race in? I'll be honest winning the 2016 master age group was not easy. There was real competition in there from at least 3 other riders. I bust myself training and dieting and got a few lucky breaks along the way to that overall title.
So should I race elite? Well if I wanted to race the full EWS as a 40-50 age grouper I had better step my game up, so elite was a good option, Also I defensively thought that there was a good chance I wouldn't retain my overall title in the master age group, which would knock me psychologically and not look great for the new sponsors. So in my 39th year, I decided to jump in the elite category and race against the 25 year old rippers. Whilst I would be embarrassed at not making a podium in masters I saw there was no shame in coming 10th in elite at the age of 39.
My first 2 races did not go well. In fact, they were disastrous! I felt I rode to my limit, pushing as hard as my heart could take. No crashes, no silly mistakes, I felt I had perfected riding and yet I was coming dead last in the elite field of 15 odd riders. My wife said to me at the 2nd race when I threw a wee hissy fit at my result that if I was going to be like that every race then there was no point in doing the races. The whole point of this is for fun and neither of us were having fun.
With some time to dwell on things negatively, I came into the 3rd race not really caring whether I did well. Just try and have fun. Well blow me down, did I not get a top ten result, 8th place! there might just be something in the relaxing whilst racing malarky! the rest of the year I spent trying to relax at the races and ended up 8th overall at the end of the season. No' bad for nd old boy carrying over 10 years on his competitors!
And so here we are in 2018, I'm racing elite again, I'm 40 this year, and sitting in 6th overall with Lewis Buchanan, Joe Barnes, James Shirley, Chris Hutchens, Gary Forrest and Christo Gallagher in my category this is pretty phenomenal (have to say, I am stoked that Ruaridh Cunningham and Mark Scott haven't entered these races, yet!) I've still got my eye on the prize for 2019 EWS glory (I would be stoked if Karim Amour never entered it). Through some well timed networking I've picked up a few sponsors along the way as seen in my video. and news this week is that I'll be riding for MSC tires uk as well. give them a try you will be extremely surprised!
For next year I will need to figure out alot of things financially, logistically, psychologically and emotionally.
FINANCIALLY I'll be looking at spending £15K+ to race the full worlds. I have several fundraising ideas in my head. The main thing I will be doing is a raffle of all my race prizes from the past few years, unwanted Xmas presents and sorting out stuff with my sponsors for some real prizes hopefully along the lines of a bike, wheelset, clothes and tires. The plan is £35 a ticket, 200 tickets 200 prizes. leaving me with £7k to finance myself. I also juggle 3 jobs and my training and normal life to help get the funds together.
LOGISTICALLY The release of all the dates and venues already is a huge boost, but I'll need to start putting feelers out regarding flights and accommodation. I'm hoping Team Marin can assist here.
PSYCHOLOGICALLY I will need to go out with the mindset that being relaxed is best. The vast majority of my gym work is HIIT training and whilst it gets you super fit, it does not help with the psychological need to be relaxed, all the drills are done to 110% effort, but do that in a race and you'll blow up in the first minute or crash…its taking me 25 years but its now starting to sink in, mainly because my riding buddy Big Steve says he'll start kicking my ass if I don't listen to that headset cap he forced me to get!
EMOTIONALLY I will also need to go out with the understanding that this is truly a once in a lifetime opportunity. A "round the world" trip, racing my bike in amazing countries. I should be eternally grateful for the opportunity. I must not bring my 2017 "try hard" race mentality with me. Yes, I am here to podium, hopefully on the top step at the end of the season, but if it doesn't happen and I suck, then big deal, its just a race, I'll see amazing things, learn amazing things and meet amazing people.
I'll finish with a big thanks to my ever enduring wife for all the hassle she puts up with and a Scottish prayer I have adapted to myself to remind me that life is amazing, a problem is just an opportunity to be figured out and friends and family are more important than gym time and riding bikes.
some hae' bikes and cannae' ride
some can ride but dinnae' hae' bikes
but we can ride
and we hae' bikes
so let yerself be thankit