With more than 80 race wins under her belt, two World Championship titles, Olympic medals and a record for World Cup honours, Lindsey Vonn is counted among the most successful alpine skiers ever. The accolades are important but, for the athlete, it all begins with her passion for the sport.
"I think the thing that I find most exhilarating about skiing is the adrenaline rush. You don't really feel anything else is going on around you," she says. "You're just going fast, the wind rushing in your face. It's pretty amazing."
"The reality to become the best of what you do is just hard work," Vonn continues, citing winning the gold medal in the 2010 Vancouver Winter Olympics – and being the first American woman ever to do so – as her biggest career accomplishment, and revealing that it was "beyond a dream come true". A close second for her proudest moment was breaking the World Cup win record. "To solidify myself as the best World Cup skier ever, that was incredible," she says.
The sport captivated Vonn from a young age – "I was skiing with my dad in a backpack before I could walk" – and she was prepared to put in the time and effort to succeed in it. "I was the one who always wanted to put in the extra work – I was the first one on the mountain and the last one off," she recalls.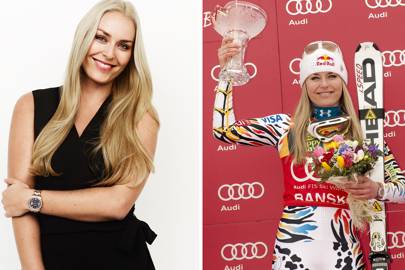 Despite the monumental triumphs she has enjoyed, Vonn's success hasn't been without its setbacks, including a few career-threatening injuries. She suffered a particularly serious fall in 2013, when she crashed on the super-G of the Alpine World Championships in Austria.
"When I threw my knee out, the crash was exceptionally painful," she remembers. "Sometimes you just know that something is really wrong. To not be able to ski again would have been the worst thing that could have happened to me." That, fortunately, was not to be the outcome, but the recovery period was lengthy and frustrating. "Going slow is not something that I enjoy doing, patience is not something I'm good at."
"When I was finally able to ski again, it felt like I was a kid again," she smiles. "I was doing what I love and no one could tell me no."
Reaching the peak of her sport and overcoming numerous challenges along the way is not the only thing that makes Vonn such an inspiration. In 2015, she set up the Lindsey Vonn Foundation with the vision to empower girls across the globe through education and athletics. "Giving the future women of the world the confidence to move mountains," is its compelling mission statement.
"Outside of skiing, I think I'm most proud of starting my foundation. And I think that was one of the best things, honestly, that came out of being injured," she explains of how it first came about, and why she wants to share her own experiences to help others.
"I think what I've learned over the course of my career and in my life is that, no matter what obstacle you face, you can always overcome it," she continues. "You can use the experience as something that will help you down the road. Stay positive and it will teach you something and hopefully make you a better person."
Practising what she preaches, Vonn is determined to continue doing what she loves and to break down barriers for women in sport.
"The future is bright, I'm going to keep pushing the limits, keep pushing myself," she says. "I want to race against the men, so hopefully someday that will happen."
A Rolex Testimonee since 2009, Vonn sets an example of perseverance, inspiration and, most importantly, the courage to do things your own way – a value that she shares with the brand.
"It's not about what everyone else says, it's about what you do and how you do it that matters. That's why I've aligned with Rolex for so many years – because they have a similar motto," she says of the partnership. "They carve their own path. They do their own thing. And they help others achieve the same. It's what denotes the best from the rest."
As for how the athlete measures her own success, it does not stop at her sporting triumphs.
"The sum of my career is not necessarily my accomplishments skiing, but what I've done physically and mentally to grow as a person and to get to this point in my career," she considers. "It's not what I do on the mountain, but who I am as a human being."
Watch Vonn reveal how she overcame her challenges and recall her highlights