Later this spring, Randi Griffin will sit down with faculty from Duke's Evolutionary Anthropology Department and defend her dissertation on computational analyses of primate skulls.
She's not nervous about this. She expects her work to hold up and aims to graduate with her Ph.D. this summer.
After the past several weeks, her lack of butterflies for a dissertation defense is understandable.
The 29-year old Duke graduate student was a forward for the joint Korean women's ice hockey that competed in the Winter Olympics in Pyeongchang, South Korea. As the player who scored the team's first goal, Griffin was perhaps the most well-known member of a team whose story spanned both sports and geopolitics.
"It was pretty overwhelming," Griffin said.
Griffin is one of a handful of Duke community members who made the trip to Pyeongchang in February to compete in, cover, or enjoy the Olympics. But her story is the craziest.
An Apex native who played college hockey at Harvard, Griffin's Olympic journey began in 2014, when she was recruited to join the South Korean team. In 2015, with her classwork in the five-year evolutionary anthropology Ph.D. program complete, she moved to Seoul, South Korea, where she worked on her dissertation by day and trained with the national team each night.
As the games neared, Griffin and her teammates were moved to an isolated training facility in order to get away from the spotlight.
Two weeks before the games began, the spotlight found them.
In what became perhaps the games' biggest story, officials from North and South Korea agreed to combine women's hockey teams.
The announcement stunned Griffin and her teammates. But with a handful of new players from North Korea arriving and a short time to get comfortable, there was nothing to do but forge ahead amid surreal circumstances.
"We'd sit in the dining hall during those two weeks and look up at the TV and we'd have the news on," Griffin said. "We'd see our faces flashing up, and then Kim Jong Un and Donald Trump. We were like 'Wow, this has gotten out of hand.'"
Griffin said the turbulent lead-up to the games likely contributed to blowout losses to Sweden and Switzerland. But in the third game against Japan, the team settled down and played well.
Midway through the second period, Griffin corralled the puck, fought off a defender and sent a shot lumbering toward the goal. The puck bounced off the pads of goalie Akane Konishi and trickled into the net, giving the Korean team its first goal of the games and sending the home crowd into a frenzy.
"That happens," Griffin said. "Sometimes you throw the puck at the net and you get lucky."
Griffin's goal made her an Olympic celebrity, a status she said she was somewhat uncomfortable with. She felt the story should have been how well the team played, not who touched the puck last on what she called a "junk goal."
"Eventually, I had to just go with it and see it as a positive," Griffin said. "People really cared about our team."
After a blur of games, news conferences, celebratory banquets and the closing ceremonies, Griffin found herself on a long plane ride back to Connecticut – where she now lives with her girlfriend – poring over research data on primate skulls.
She'll be back on the ice in April when South Korea competes in the International Ice Hockey Federation's World Championships.
But first, there's a dissertation to finish.
Following his passion
The first time Ken Childs remembers watching a bobsled race was in 1988. As a nine-year-old watching coverage of the races from the Winter Olympics in Calgary, Childs was captivated by the racers who barreled down twisting courses in sleds travelling upwards of 90 miles per hour.
For the IT Manager at Duke Anesthesiology, the fascination with bobsleds never left. And last month, it took him to Pyeongchang to experience his first Olympic Games.
Childs was there to cover bobsled, luge and skeleton events for SlidingOnIce.com, a sliding sports news website he runs. Childs started the site in 2011 after finding that it was hard to find information on sliding sports.
In the years since, his site has become one of the main sources of information and analysis for fans and racers alike. In addition to posting results and reactions from races he watches online, Childs often treks to Lake Placid, New York to cover the major events held there each winter.
But last month's Olympic Games was by far his biggest assignment.
As one of the few journalists who cover the sport constantly, Childs offered perspective that others couldn't. If an athlete overcame injury or endured a winding road to the medal stand, he knew.
Due in part to that insight, the traffic on his site, which usually peaks around 10,000 hits per week during major non-Olympic competitions, spiked to around 40,000 hits per week during his time in South Korea.
"It's a labor of love," Childs said of running the site. "The hours are terrible and the pay is bad, but I love it."
Family Pride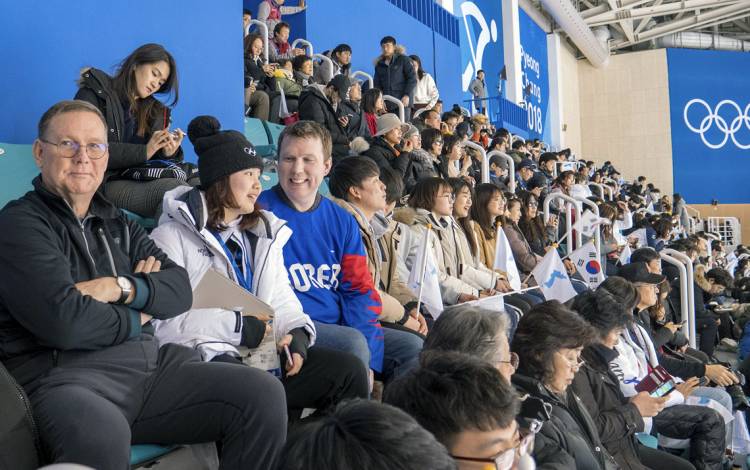 In the months leading up to the Olympics, Schuyler Knowles, operations coordinator for Duke Global Administrative and Travel Support, couldn't contain his excitement about the upcoming games. The youngest of his five siblings, half-sister Genny Kim Knowles, earned a spot as a reserve goalie on the Korean women's ice hockey squad.
"I told everyone from random people in the elevator to people I hadn't talked to in 10 years because it's so cool," Knowles said. "I'm very proud of her. She worked very, very hard and I'm happy it paid off for her."
Genny Kim, 17, was born in South Korea and lives in Canada. She didn't see ice time during the games, but that didn't dampen her family's experience.
Schuyler was part of a large group of family members who traveled to Pyeongchang. He got to see his sister on most days and was in the stands for the opening ceremony and the first three games played by the joint Korean team.
He flew home a few days before the games ended, leaving him with jetlag, some souvenirs and memories that won't soon fade.
"For my family, it's the story of a lifetime," Schuyler said. "We'll always be talking about the time we went to the Olympics to watch Genny."