The snowboarder Chloe Kim is making her Olympic debut in Pyeongchang, and, despite being just 17 years old, it is long overdue. The halfpipe phenom mathematically qualified for the Sochi Games four years ago but wasn't old enough to compete, which turned out to be a blessing in disguise, according to Kim.
"I'm actually kind of thankful that I wasn't able to go, just knowing what I'm going through now, going into my first Olympics" she told the Guardian last month. "It's pretty hectic, and I don't know if my 13-year-old self would have been able to handle it."
Now the Los Angeles-area native, who enters these Games as the gold medal favorite, is more than prepared for this moment. Despite not making it to Sochi, Kim still had a breakout season in 2014, when she became the youngest Winter X Games medalist ever. A year later, she topped the podium, winning her first of four X Games titles.
Her signature style and impressive amplitude have dazzled judges and spectators for years, and her groundbreaking feats have elicited comparisons to Shaun White, another snowboarder from Southern California who found success at a young age. Aside from White, Kim is the only halfpipe rider to earn a perfect score of 100, and she did so by landing back-to-back 1080s, something no woman had ever achieved before. Kim's precocious talent had many calling her a prodigy, but she is driven by much more than just innate ability.
"Just because I'm young doesn't mean I didn't work hard to get to where I am," she said. "It's not like I was just dropped onto a snowboard and I was able to go 15 feet into the air. There was a lot of hard work that came with it. That's something that people don't really notice sometimes and the amount of sacrifice my family made."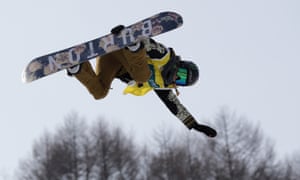 Kim's parents, Jong Jin and Boran, have been crucial to her career. Originally from South Korea, Jong Jin and Boran immigrated to the US in 1998. When Jong Jin wanted to learn how to snowboard, he brought his four-year-old daughter with him and put her on a board he purchased on eBay for $40. She quickly surpassed her father, who quit his job when Chloe was seven to support her career full-time. The decision was controversial among Kim's extended family members, several of whom still live in South Korea. What ensued was a "constant battle" that lasted for years, according to Kim. Yet Jong Jin never relented.
"My dad is a very determined person," she explained.
All familial dissent was quelled, perhaps by Kim's conspicuous talent or her father's dogged determination, by the time she was 12. The snowboarder, who speaks Korean fluently, expects to have a "big cheering squad" of relatives in Pyeongchang, and they likely won't be alone. The host nation, with no halfpipe contenders of its own, has adopted a rooting interest in Kim because of her ancestral ties to the country.
Kim's global appeal helped her nab several big sponsors, including Olympic partners Toyota and Samsung, South Korea's largest conglomerate. Stateside, she is one of NBC's marquee athletes in Pyeongchang, starring in her own Super Bowl commercial ahead of the Games. Fans, sponsors and the media all have lofty expectations for Kim, but rather than let it weigh on her, she uses it as motivation.
"I try not to feel pressure because that kind of throws you off," Kim said in a press conference earlier this week. "But when it does kind of creep into the back of my mind, I try to see it in a positive way, like, these people that are expecting all of this out of me do that because they know I can do it and they believe in me."
The pressure will continue building until the halfpipe final on Tuesday morning in South Korea (a prime-time Monday night telecast back home). Although she is the resounding favorite, there are no sure things in the halfpipe. Kim acknowledges – and even enjoys – the uncertainty in her event.
"It's a pretty crazy adrenaline rush because I feel like every run is different," she said. "You can never really expect anything. It's like a new adventure every time you drop into the pipe."
If Kim is triumphant in Pyeongchang, her next adventure might be crossing over into the mainstream. Few Winter Olympians have been able to make the transition, but Kim has the potential to join the ranks of Shaun White and Lindsey Vonn. While she's eager for the responsibilities that come along with that level of prominence, saying, "I always want to be a good role model," she also yearns for the same freedom to fail that most kids her age are afforded.
"Realistically, I'm 17 and I make mistakes sometimes," she said. "I don't think anyone's perfect. We all have our flaws."