The Cardrona Alpine Resort between Queenstown and Wanake is set to almost double in size as the result of a partnership between resort owner the Real Journeys Group and Queenstown businessman John Darby.
The deal gives Cardrona access to terrain in the Soho Basin adjacent to the Resort's southern boundary, adding 500 hectares and 500 metres of vertical skiing to Cardrona. The enhancement of Cardona's skiable terrain will lead to the development of New Zealand's largest alpine resort.
Soho Basin faces Queenstown and covers all the southern and south-west faces of Mt Cardrona and includes the two Willow Basins that directly adjoins the Resort.
With the Real Journeys Group committed to continue its investment program in Cardrona, the development of the larger, integrated Cardrona-Soho Ski Area will be in accordance with the agreed masterplan for the combined ski areas.
Real Journeys Group Chief Executive Richard Lauder explains "this has been something we've been looking at for some time and we're both extremely pleased that we can work together to build a world class ski area with integrated facilities and amenities that will be both New Zealand's largest mountain resort and a truly world-class ski destination
This partnership will see Cardrona more than double in size to over 900 hectares of skiable terrain. Access to the Soho Ski Area will be from the top of the recently installed McDougall's Chondola, with facility development at the top of the mountain to support this.
Soho Basin, as part of Glencoe Station, was first acquired by Darby over a decade ago.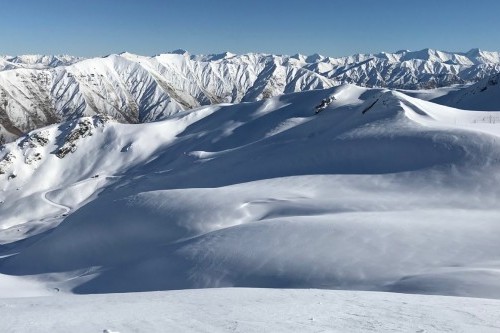 As Darby explains "the diversity of the slopes in the Soho Basin make it an exceptional ski area for all levels of skiers. Its high altitude, southerly-facing aspect means it receives and retains a good cover of early snow. Soho's offers spectacular views out over Queenstown, the Wakatipu Basin, and across the Main Divide.
"I've skied Soho Basin with friends and family for now well over 20 fabulous winters seasons. With Cardrona, I'm now looking forward to opening up this same opportunity to the public. It's a very special place and great care will be taken to preserve this wonderful alpine environment."
Cardrona General Manager, Bridget Legnavsky added "to be a truly world-class alpine resort, you need to have extensive lift networks, multiple aspects and varying terrain – this new terrain and the developments that go with it will really make Cardrona an extraordinary experience in Aotearoa.
"We're thrilled at this opportunity to continue creating epic experiences for all our people now, and into the future."
Cardrona is three years into a five-year development plan that has focused on preparing Cardrona for the Soho expansion by improving guest flow and capacity. This has included installation of the McDougall's Chondola to increase uplift, the refurbishment and repurposing of the Base Area buildings, and expanded car parking with a connecting shuttle service.
The expansion also has implications on Cardrona's summer operations, with the opportunity to grow further as New Zealand's only mountain resort to offer a full summer of activities including mountain biking, mountain carting, dining, events and stargazing experiences.
All necessary approvals are now in place to commence the staged development of ski area facilities in the Soho Basin and the development of the ski area and supporting facilities is expected to begin once the current Cardrona masterplan is completed. In the meantime, cat skiing will continue to be provided for those who wish to experience the Soho Basin before commercial ski operations are developed.